Most communities have curbside recycling these days. Take the time to sort your trash into the acceptable categories.
Plastic grocery bags are not accepted for curbside recycling and are a special problem because of their impact on wildlife. Some areas have imposed a five cent tax on use of plastic grocery bags. Many groceries have a box outside where customers can deposit unwanted plastic bags (and you can grab a few to save a nickel if you forgot to bring your recyclable bags). Reuse the grocery bags as liners for small trash cans. Or you can use them to make rugs--either braded or crocheted (you can do this with bread bags too). And another cool aspect is you can use a recycled toothbrush as your crochet hook or needle. [Mother Earth News| Instructables | Maymee Campbell's toothbrush rugs]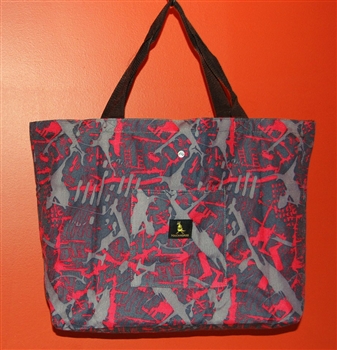 There have been news reports about the dangers of cross-contamination (E.coli!) between meats and produce when reusing grocery bags. Local Maryland entrepreneur Seema Kakar has come up with an elegant solution with her product "PouchAgroo". I met Seema at the Olney Farmers' and Artists' Market and was really impressed with both her idea and the quality of her product. PouchAgroos are fashionable tote bags with convenient pockets and snap-out washable linings. They can be used for shopping, for the beach, the gym, or even for diaper bags. They come in three sizes and a variety of fabrics and designs. My favorite is at the right. You can contact Seema at info@pouchagroo.com. Who knew you could go green and high fashion at the same time.
An artist I met at the market the same day is turning glass bottles into works of art. Deborah Hines of River Rock Studio is turning empty liquor bottles into unique cheese trays. The bottles are slumped in a kiln to form the cheese board shape. Deborah then adds a wrapping of wire and beads on the neck and a matching set on a cheese knife. Great gifts! I bought two and wish I'd bought a few more--it's so hard to pick a favorite. The variety of colors and designs are amazing. She also makes picture frames and other decorative items out of fused class. great way to turn recycling into art. I was able to get extra cheese knifes to go with the trays from the booth across the aisle. Linda Jo Kushner of Sara and Me makes those knives as well as salad utensils wrapped with beaded wire.